Deck Planning Basics
Knowing the building blocks of decking and railing helps you understand all the beautiful options possible with Trex® – from colours to profiles to finishes.
Components – Get To Know Deck Building Blocks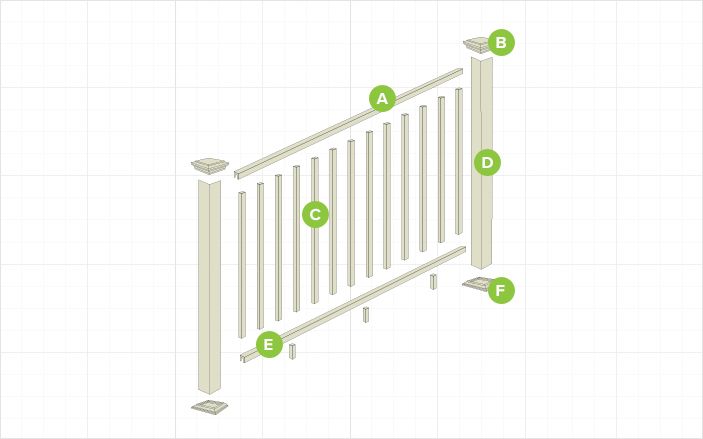 A

Top rail: The horizontal portion that attaches to the top of balusters and posts, and maintains straightness.

B

Post cap: Cap topping each post is the decorative finish that also stands the weather.

C

Balusters: Smaller pickets that ensure spacing and safety.

D

Post: Sturdy vertical pole that bookends a section of railing.

E

Bottom rail: The horizontal portion that attaches to the bottom of balusters and posts, and maintains straightness.

F

Post skirt: A finishing piece at the base of the post that covers any cuts where the decking and railing meet; usually coordinates with the cap.

G

Cocktail rail: Optional add-on; its flat, deck-board surface can hold drinks, planters & more.

G

Decking: The decking boards that serve as the walking surface.

H

Joist: Dimensional structure, set on edge, which supports decking.

I

Beam: Supported by posts, the beam is the main horizontal support for the deck.

L

Elevated post: Vertical supports that rest on footings and support the beam.

M

Footing: The below-ground support of a deck's post, usually made from concrete.

N

Tread: The walking surface of each step in a stairway.

O

Riser: A board attached to the vertical face of a step between treads.

P

Stringer: The support frame of stairs to which the risers and treads attach.
Build Or Resurface?
Deck builds usually go two ways: you have a framework with a little life left in it and only the top boards need a facelift. Or, you're starting from the grass up and need a completely new deck. Either way, Trex is the perfect solution, with myriad products that outdeck timber at every stage.
Codes & Permits Checklist
1

Permits:
Check with your government offices for what permits are necessary and any building code requirements
2

Homeowner association:
Understand any rules regarding deck size, colour, product type or design
3

What's underground:
Check with local utilities companies for the location of any underground cables, wires or pipes (a builder often helps with this).