« All ideas
Expert Advice
Trex® Cost Calculator Answers Your Top Questions
"How much will my deck cost?" is one of the most common questions we hear and one of the most difficult to answer. Until now.

With our online Deck Cost Calculator, you can plan and budget your new outdoor living space with more confidence in the cost estimate of the Trex decking materials.

The Trex Deck Cost Calculator estimates the material costs of your deck build based upon the information you provide for the size of your deck, plus the materials and products you intend to use for the substructure, decking and railing.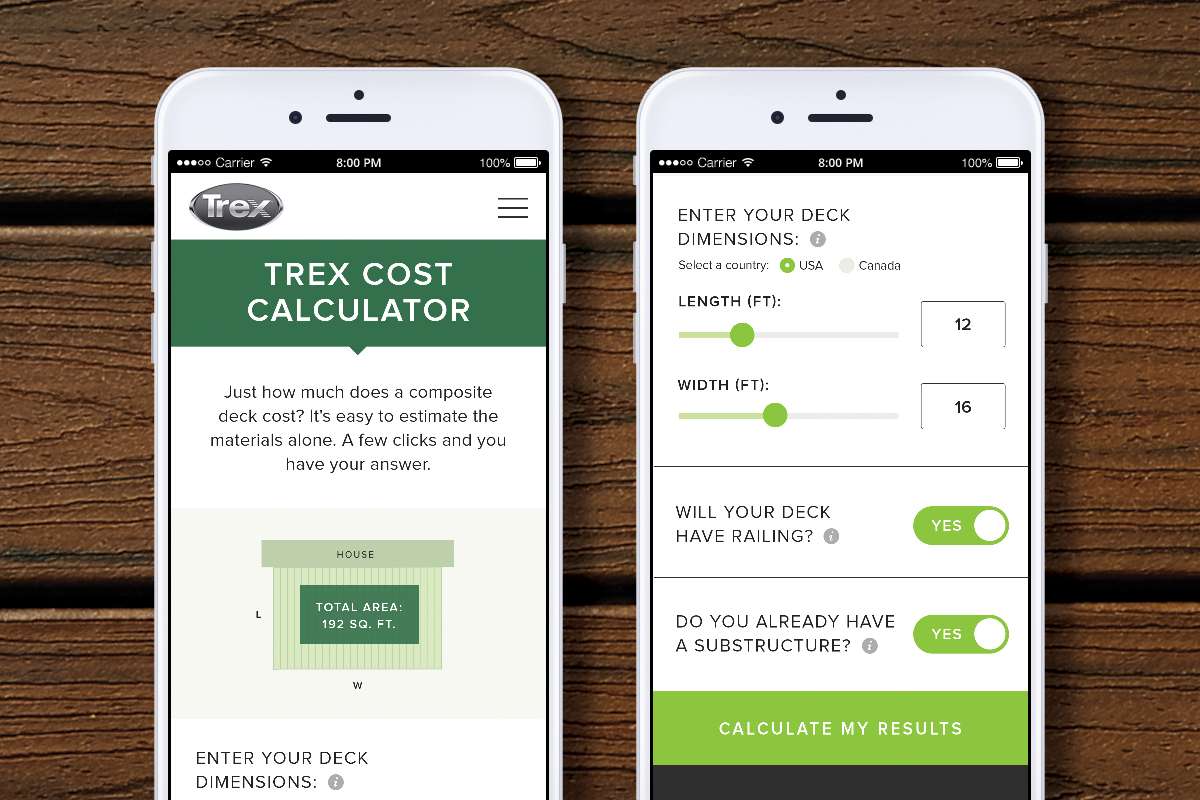 The tool guides you through three simple steps:
Deck size – Insert the dimensions of your desired deck, either in feet or meters, up to 1,500 square feet (136 square meters). We'll give you a decking estimate for all three of our high-performance collections: Trex Transcend®, Trex Enhance® and Trex Select®.
Railing – Choose whether or not to add railing to your design. Afterwards, you'll have the opportunity to choose between our unique railing collections: Trex Transcend Trex® Signature™ and Trex Select® 
Substructure – Choose whether or not you'll need a substructure, and we'll adjust your estimate to include Trex Elevations® steel deck framing.
The cost calculator does not provide you with a labor cost if you choose to hire a deck builder, due to the widely varying rates that contractors charge. Labor and installation costs account for nearly two-thirds of the final deck costs. Of course, if you opt to build the deck yourself, those charges are negated altogether. Other factors, such as your geographic location, site, design, number of staircases, fascia and accessories, can affect your final costs as well.

Get started on planning your special outdoors space; try our Cost Calculator.