« All ideas
Expert Advice
Garden Decking Ideas & Top Trends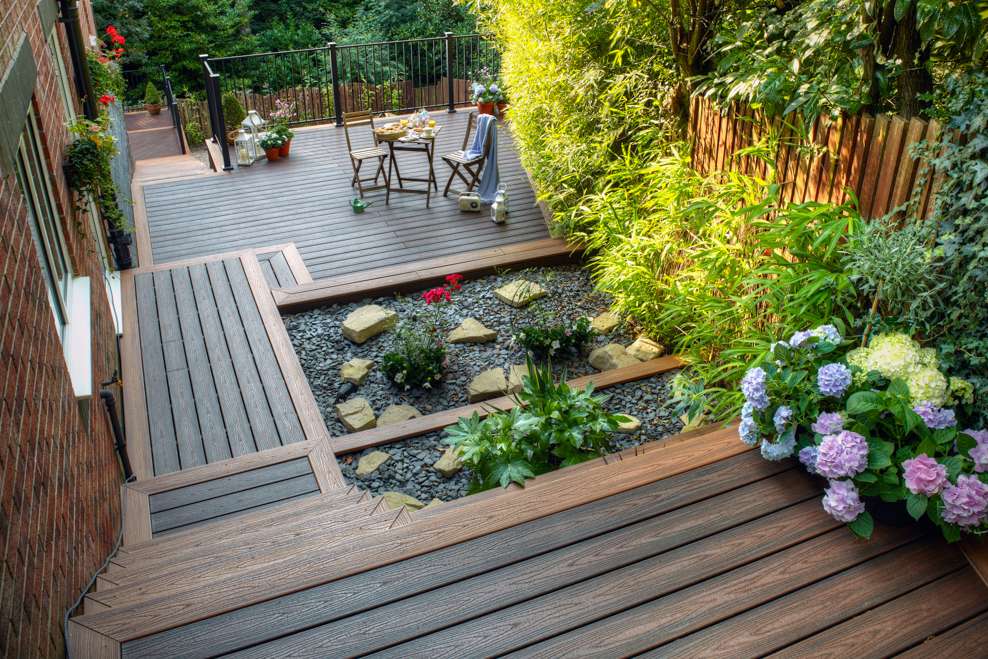 The more people who switch to composite garden decking, the more interesting trends emerge. From unconventional styling to fortified function, here are the top garden decking ideas that we think are just getting started.
Whether you're into modern or unique deck design ideas, we'll give you inspiration to help you enjoy your outdoor space all year long, or at least as long as weather permits! If you have limited space, don't worry, we've got some great decking ideas to help you create more living space in small areas.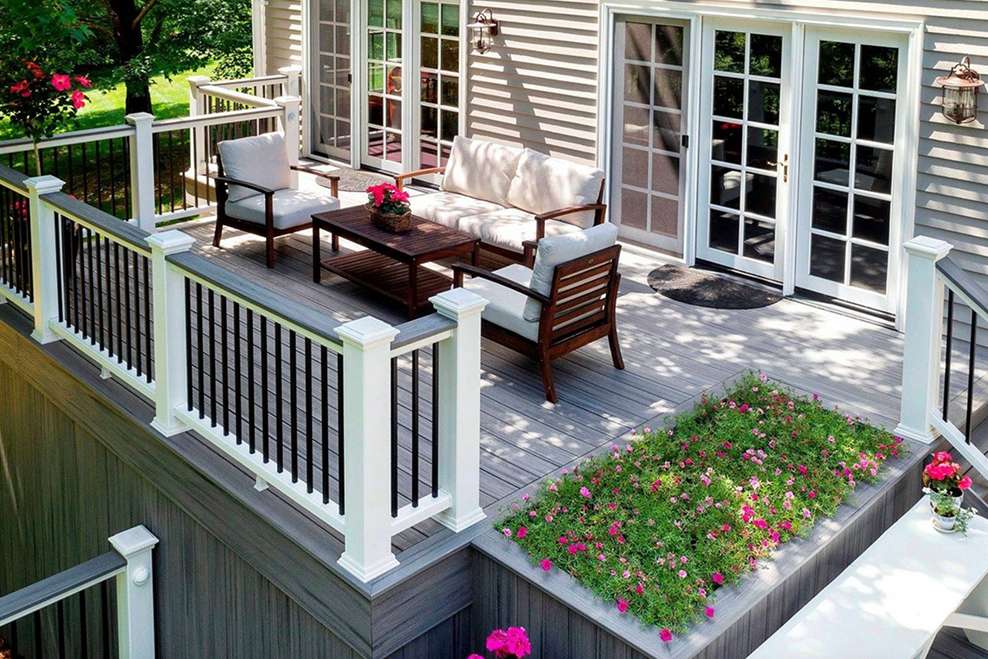 1. Raised Decking
More and more modern homeowners are taking their small garden patios to the next level—literally. Expect to see more garden decks built on a raised level to make way for sheltered rooms or storage underneath.
When people think of raised decking, they often think it's best used as a storage space. Raised back garden decking can also be used as an additional, separate outdoor seating area, and you can even add overhead coverage. If you want to create more usable space and maximise the value of your deck, remember: build up, not out!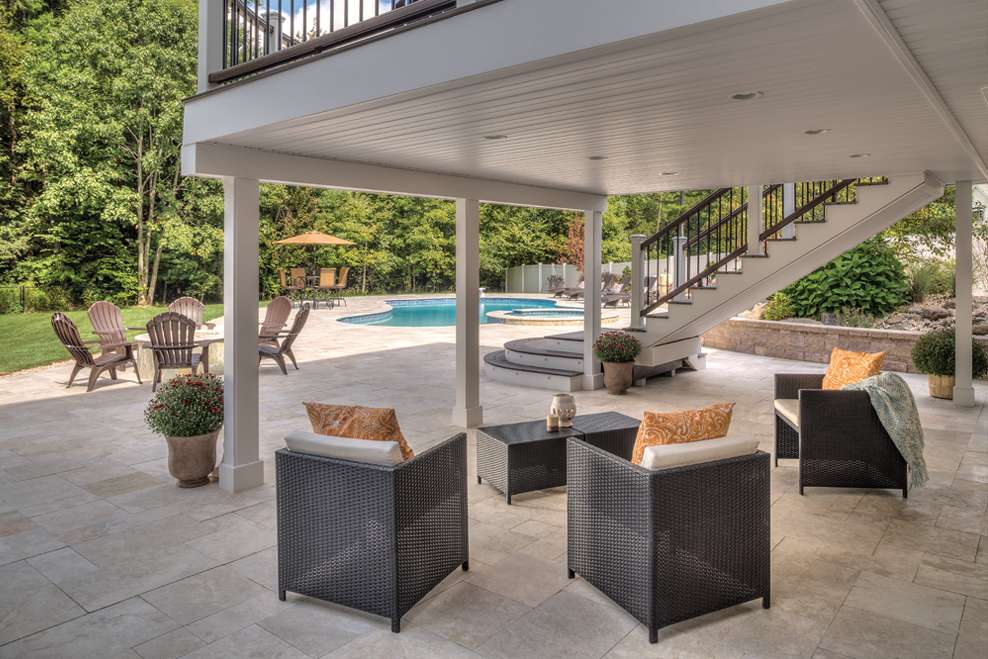 2. Maximised Use
Speaking of multi-level builds, space-savvy homeowners can increase their year-round garden deck time with weatherproofing solutions like our under-deck drainage system, Trex® RainEscape®. Now, not even the rain can keep you from enjoying the outdoors. The Trex® RainEscape® drainage system features a trough and downspout design to drain water away from your deck to keep your patio area dry so you can enjoy your outdoor space after a rainy day.
Covered deck designs have also become increasingly popular to maximise outdoor time, especially in the UK, where it rains frequently. When designing your deck, consider ways to cover or protect your deck from the elements, so you can still enjoy time outside after inclement weather.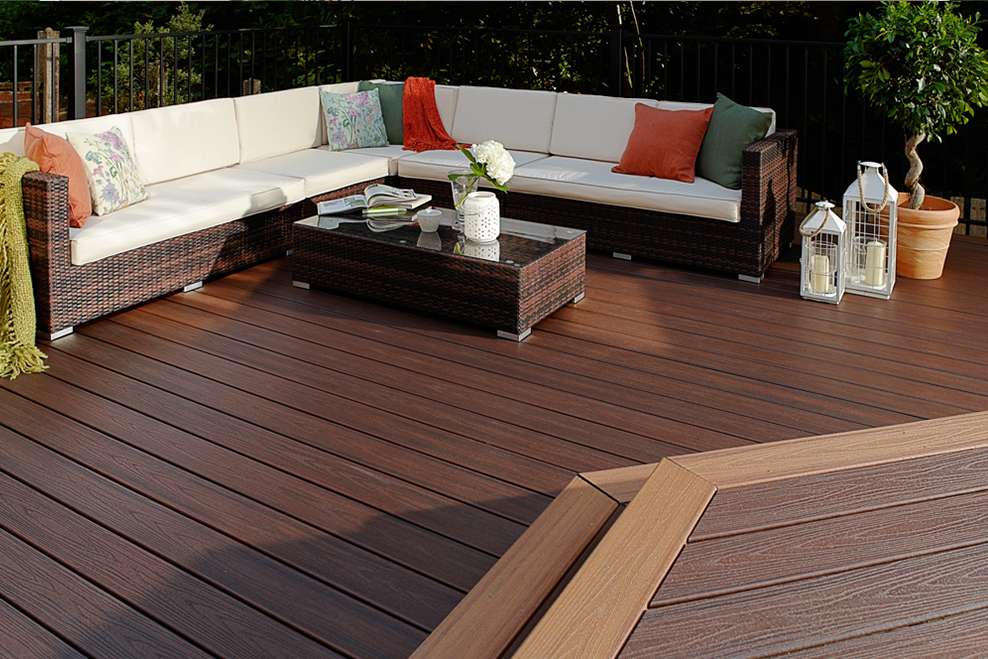 3. Unlikely decking colour ideas
Gone are the days of the conventional colour palette. At first glance, Lava Rock decking with a Tiki Torch trim may seem daring, but the contrast is actually very natural. With the recent rise in popularity of unique colour and pattern combinations, give yourself permission to experiment.
From rich brown tones like Spiced Rum to lighter colours like Foggy Wharf, work with a Trex expert to find decking colour ideas to bring your dream outdoor space to life.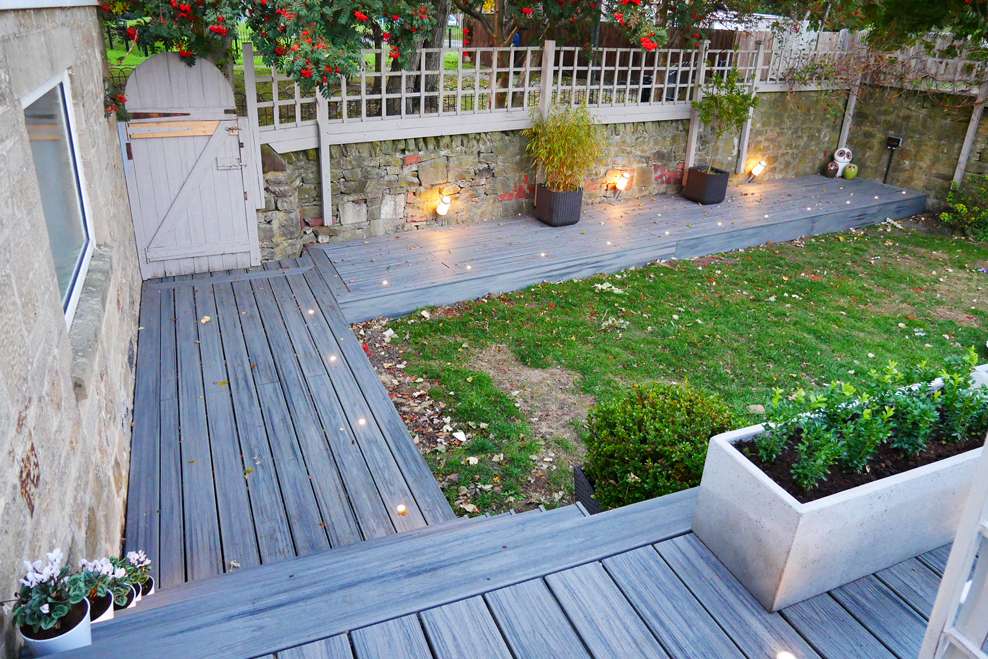 4. Eye-catching features
Picture your garden decking design centred around the outdoor features you've always wanted. Think large planters or pathways of sophisticated Trex® Outdoor Lighting™ to further guide attention exactly where you want it.
5. Heaters
If you're looking for garden decking ideas for colder regions or cooler months, consider a deck heater. Warm your outdoor space with a built-in deck heater. Unlike designs of the past, modern deck heaters can be built right into your deck to be slim and discreet, as well as work perfectly with your overall deck design aesthetic.
6. Outdoor Fireplaces
An outdoor fireplace is another cold weather cure for garden decking design ideas. Gather by the fireplace or fire pit with your loved ones, and enjoy a comfortable, relaxing evening despite the cool, crisp weather. Outdoor fireplaces provide the same heating benefits as a built-in heater, but also add a warm, cosy feel to your outdoor aesthetic.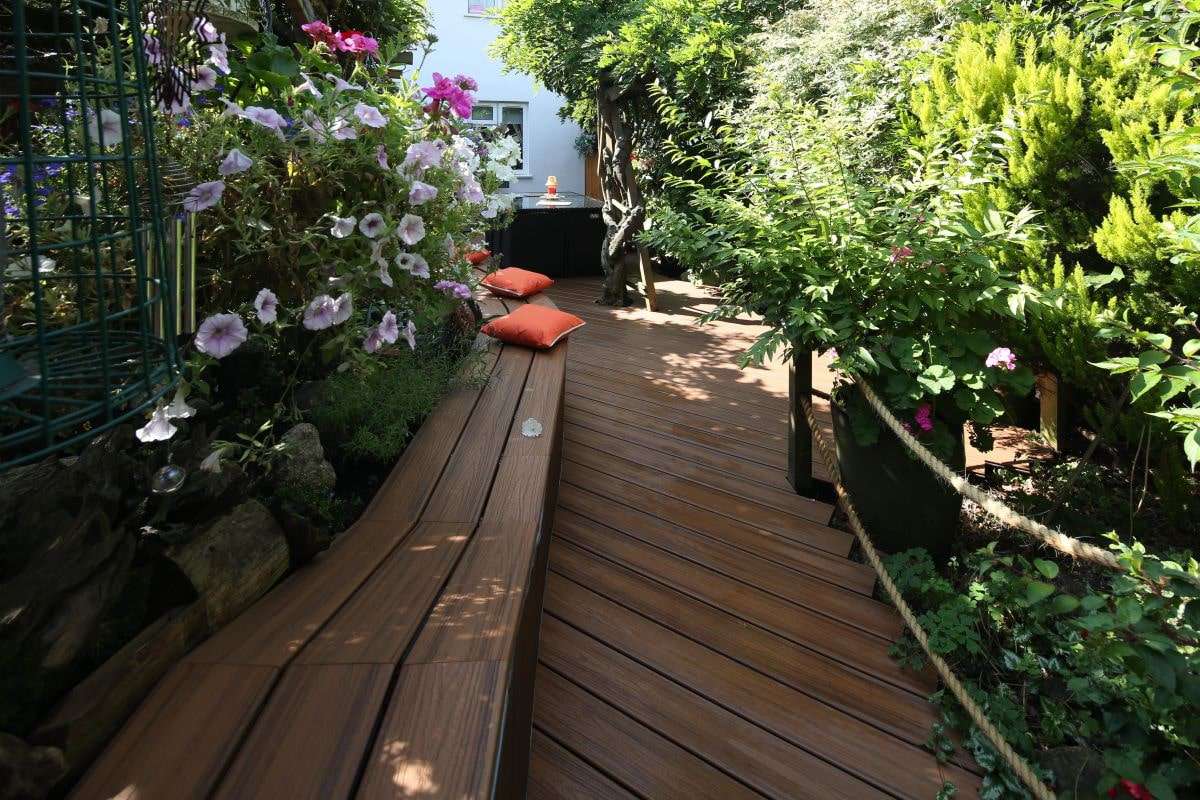 7. Sustainability
You can feel good about using Trex materials for your garden decking. Trex composite boards are eco-friendly and made of 95% recycled materials. Trex uses a sustainable production process to eliminate the use of smokestacks and reduce factory runoff.  
8. Outdoor Televisions
Add an outdoor television to your back garden decking and turn your covered deck into an entertainment centre. Imagine watching a movie under a starlit sky or cheering on your favourite sports team on a warm summer day. An outdoor TV can transform your deck into a versatile, fun-filled place to relax.