Part of building your dream deck is the prep work—from scoping your garden to planning where the furniture goes to gathering the right tools. Luckily, Trex decking is just as easy as hardwood or timber decking—you can cut and drill with no special tools required. We'll walk you through a few simple steps to get started before you start laying and building your deck.
PLAN YOUR DECK SIZE
1. Decide on the deck's location:
» Consider whether it's freestanding or attached to the house.
2. Decide on the size of your deck:
» You'll want to plan the size of your deck around how you'll use it.
Tip: arrange your patio furniture to determine approximately how much room you'll need to accommodate it.
3. Now calculate how much decking you'll need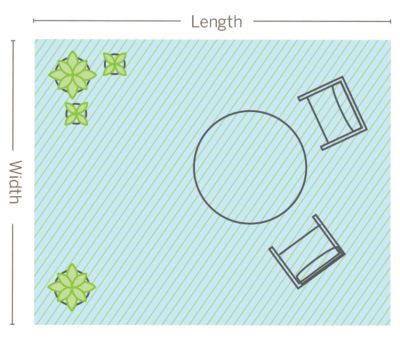 GATHER YOUR SUPPLIES
DECK BOARDS

TREX HIDDEN FASTENERS KIT

(INSTALLS >> 5.6 SQUARE METRES OF DECKING)

DRILL WITH #1 SQUARE BITS

MEASURING TAPE

SUB-STRUCTURE MATERIALS

SAFETY GLASSES

CIRCULAR SAW & BLADE

CARPENTER'S LEVEL

CHALK LINE

WOODEN STAKES

SPADE

DUST MASK

GLOVES
Don't Forget
1. Permits
Check with your local council for what permits are necessary and any building code requirements
2. Homeowners Association
Understand any rules regarding deck size, colour, product type or design
3. What's Underground
Check with local utilities companies for the location of any underground cables or wires (a builder often helps with this).